The USC team of researchers involved in the development of Obsidian continues to increase its scientific production. They have just published a reasearch article about fuzzy logic titled Using Fuzzy Sets in a Data-to-Text System for Business Service Intelligence. This article was presented at the 16th International Workshop on Intuitionistic Fuzzy Sets and Generalized Nets.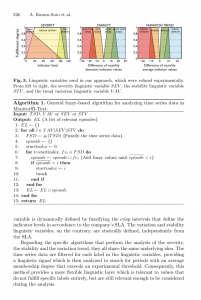 The research article describes the techniques of fuzzy logic used in the automatic interpretation into natural language of the indicators presented by Obsidian in dashboards and reports. This way, it is possible to incorporate fuzzy quantifiers, such as "significantly better" or "significantly improving", when describing time series. This gives flexibility to temporal pattern detection algorithms, for example,  in comparisons of monthly average values with their corresponding historical values. So, the automatically generated texts gain become more natural and easy to understand.
Practical application of this research article about fuzzy logic

As can it be seen in the following example, the text on the right is generated automatically from the four time series shown in the graphs on the left. The automatic generation of text uses the fuzzy logic algorithms presented in the article.
You can also watch a presentation about the automatic interpretation of indicators implemented in Obsidian.
Obsidian's scientific production

This new publication joins the one already from in 2016 about process mining in service management tools, Process Mining in IT Service Management: A Case Study, published in [email protected] Nets/ACSD 2016: 16-30.
Further information
If you want more information about Obsidian's scientific production or other features of our platform, please contact us via the attached form.
NOTE Only professional e-mail addresses are accepted. Requests from gmail, yahoo, hotmail, etc. accounts will not be processed.
The personal data collected via the form will be used to process your request. You may exercise your rights of access, rectification and cancellation by writing to Obsidian Soft, calle Méndez Álvaro, 20 · 18045 · Madrid.
[inbound_forms id="5168″ name="EN Informação"]