Obsidian QA is a business line that specializes in training, consulting and outsourcing of agile testing activities.
It has its origins in the SCRUM teams involved in the development of the Obsidian platform on testing frameworks and CI/CD based on Atlassian tools -Jira, Bitbucket, Confluence, Bamboo- and test frameworks such as Xray, Gherkin, Cypress or Applitools.
Agile testing

Today, an increasing number of teams are using agile methodologies for the development of their products. Also, DevOps practices that incorporate development into continuous integration and deployment cycles are defined more and more often. How does this affect testing and QA activities in general? How can test management tools like Xray contribute to agile testing activities?
Agile Testing Webinar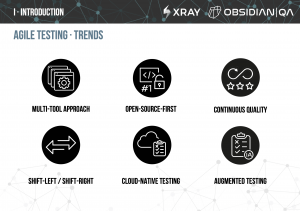 Nacho Suárez, Lead QA Engineer at Obsidian Soft, has conducted a webinar on Agile testing in collaboration with Xray.
In this event, he talked about the most important current and future trends in agile testing. He also developed a case study for the automation of agile tests across all phases of the DevOps cycle using the Xray tool for Jira.
You may access the webinar for free by logging in to one of the following networks:
Obsidian QA Services

The professional services offered by Obsidian QA can be divided into 3 main areas:
TRAINING
Official Xray training.
Training and Awareness sessions about agile testing.
Gherkin-based BDD.
Automation of end-to-end tests using different tools.
TEST EXTERNALIZATION
Agile testers and externalized QA services within agile development teams.
Quality architects and quality enablers.
Implementation of frameworks for automated integration tests, end-to-end tests, smoke tests, regression tests, etc.
CONSULTING
Agile testing assessment.
Auditing of testing strategies and good practices.
Study and definition of quality architecture systems.
Analysis and study of frameworks for automated tests.
More information about Obsidian QA
If you want to learn more about Obsidian QA or about the features of the Obsidian platform, please contact us via the attached form.
NOTE Only professional e-mail addresses are accepted. Requests from gmail, yahoo, hotmail, etc. accounts will not be processed.
The personal data collected via the form will be used to process your request. You may exercise your rights of access, rectification and cancellation by writing to Obsidian Soft, calle Méndez Álvaro, 20 · 18045 · Madrid.